This month I have dusted off classroom copies of Agatha Christie's And Then There Were None and added Maureen Johnson's Truly Devious to this reading and creative writing unit sending my students into this dark and chilly subsection where everyone is a suspect, red herrings are all around us, and reading is a game of "who done it."
I thought why not bring some creative fiction writing into the mix in lieu of an essay based on our reading. Hence, students are writing their own murder mystery short stories. I set up three "laps" around this genre to support my student learners.
#1 – Description of a Place
Show the setting of your creative murder mystery fiction through the effective use of sensory details (see, taste, smell, hear, feel) to help readers imagine and live inside this setting.
Write a minimum ONE page (double spaced, 12 point Alegreya Font) description of the place and setting of your murder mystery. Use word choice to create a believable, consistent narrator's voice. Choose a tone for your story that matches your intent; use literary devices such as metaphor and simile to expertly craft words and sentences. Emphasize words or phrases that are most important; how do you want us to feel about this place?
Check out this example from one of my students:
Ronnie had heard stories about the mansion before, not good ones, but it was honestly much more chilling in person. The gate at the entrance was made of black matte barbed wire, shaped and crafted with jagged swirls and it went up about 12 feet. The mansion itself was something out of a horror story. The window were cracked, the bricks a faded mauve, and the front entrance had two large knockers, gargoyles, with huge black empty eyes.
#2 – Story Map
Utilizing a graphic organizer created by the teacher or designing your own story map, plot out the key elements of your murder mystery short story. Be sure to include: detective, the crime, the victim(s), the suspects, rising action, clues, climax, capture, solution, and resolution.
#3 – Murder Mystery Short Story
Create your own short story based around a crime or a mystery. Your story must be AT LEAST one page, but NO MORE THAN four pages. You MUST be sure to include all the parts of the story we have discussed (characters, setting, clues, red herrings, clues).
Possible Story Starters
1. It was a strange night, there seemed to be a chill in the air…
2. As soon as I arrived, I could sense that something was out of place…
3. One night, as I looked out the window, I saw the neighbor…
4. I was watching TV when I looked up. There in the window I saw…
5. I decided to go for an evening stroll.  I walked about three blocks when I felt it…
6. They would have been fine if they hadn't stopped for the stranger…
7. Everyone avoided the big old mansion. It was believed to have…
8. They said she was able to utter a few words before she died…
9. Something is drastically wrong! Every time I pick up the telephone…
10. Sometimes I think my friend has strange powers. Every time he's around…
11. All of a sudden I was trapped!
12. "DID YOU HEAR THAT?" I screamed…
13. As I walked through the door, all I could focus on was the blood that covered the floor…
Since we have started the unit students are immersed in murder mystery and crime fiction. I introduced my students to some addition books and podcasts to help them learn as much as they can about this genre as models, mentors, and writing seed ideas. Here are a few of my favorites:
A six-part scripted podcast series. Teen detective Tig Torres investigates the twisted mystery of the infamous Lit Killer murders. But as she gets closer to the truth, the killings, each based on murder scenes from classic literature, begin all over again…with her as the final target.
It's Baltimore, 1999. Hae Min Lee, a popular high-school senior, disappears after school one day. Six weeks later detectives arrest her classmate and ex-boyfriend, Adnan Syed, for her murder.
The Cuckoo's Calling by Robert Galbraith
Yes, this is the Cormoran Strike series that J.K. Rowling writes under a pen name.
One of Us is Lying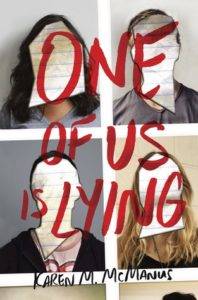 by Karen M. McManus
This book is basically The Breakfast Club meets Gossip Girl. Five students walk into detention, but only four walk out alive. The murder victim is Simon, the creator of Bayview High's very own gossip app, and all four suspects have a motive.