I am a big proponent of graphic organizers to help students organize and visualize information. Graphic organizers are helpful to outline a writing task or showcase understanding during reading. Jay McTighe and Harvey Silver write in Teaching for Deeper Learning (ASCD, 2020), "The use of graphic organizers enhances meaning making and promotes deep understanding of critical content – especially when reinforced through questioning and summarizing."
In 8th grade I begin the school year providing graphic organizers for all students to utilize and access to organize content information. I share and utilize different organizers with each assignment. Sometimes I might demonstrate filling out the organizer and use think aloud to show students the process of making meaning using graphic organizers. Slowly, using gradual release, I encourage students to create their own graphic organizers in the second semester of the school year. The first twenty weeks of school students have curated a toolkit of strategies and organizers for to choose which are the best to create based on the assignment and learning goals.
Here are four different organizers that are the go-tos for note making and organizing information.
It Says, I Say, So What – Taken from Smoky Daniels, this three column organizer helps students record the literal details of a text, make connections and inferences. Inferences are hard for many students, especially struggling readers, because the text does not explicitly say. To make an inference students combine what the text says with what they know to come up with the answer. They need a scaffold, something that visualizes and helps students internalize the process of how to infer. The It Says—I Say chart helps students finally see a structure for making an inference.
2. Window Notes/Organizer – Jay McTighe and Harvey Silver introduced this type of note making in Teaching for Deeper Learning (ASCD, 2020) "Window Notes at its core is an invitation to think actively, to express curiosity, and to use prior knowledge and personal feelings to help construct meaning during note making process. Students use a window shaped organizer that encourages them to collect four different kinds of notes: 1. Facts: What are the important facts and details? 2. Questions: What questions come to mind? What am I curious about? 3. Connections: How does this relate to my experiences or to other things I have learned? 4. Feelings and reactions: How do I feel about what I am learning?"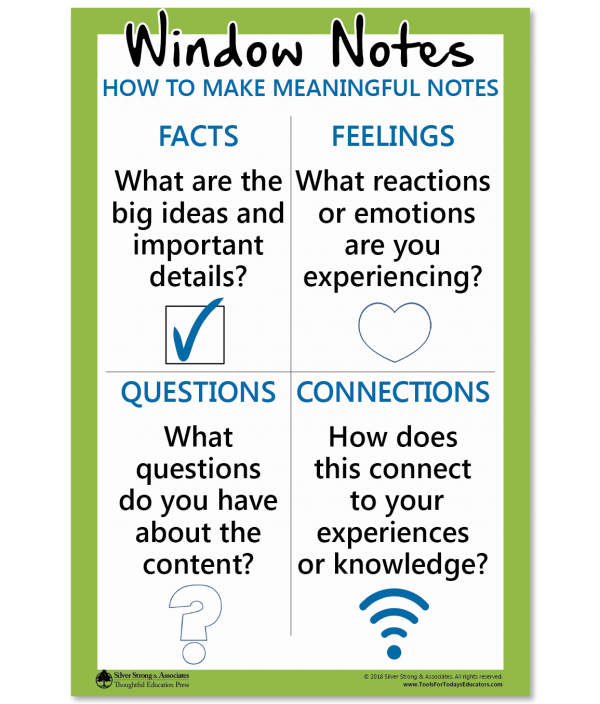 3. Know. Question. Reflect. New Questions (KQRN) – I am over KWL charts. I think they work well in elementary school but when I see them utilized in middle and high school, we are not asking students to use higher level thinking. Here is a blog post I wrote ten years ago with alternatives to the KWL. What are some other organizers that are alternatives to the KWL and activate schema at the same time? The KQRN. This is another note making organizer that helps students extend their thinking about an idea or concept. Now with any of these organizers, the teacher wants to model for students how to complete these graphic organizers with examples and think alouds.
4. Character Traits Organizer – Characterization and theme are two key elements we study when reading literature in 8th grade English. Characterization refers both to the personality of a character and the way in which an author reveals that personality. A character's personality is made up of different qualities, or character traits, that the reader discovers as the work unfolds. An author often gives characters several different traits to make them seem real and believable. Helping students develop the language to describe character traits and read to identify character traits is necessary to work on throughout the school year. Characterization leads to insight and inferences about theme. I have a stand alone organizer for character traits but also have created a hyperdoc based on the short story Raymond's Run by Toni Cade Bambara that scaffolds the entire process of curating character traits then building out a written response about characterization as it impacts theme.