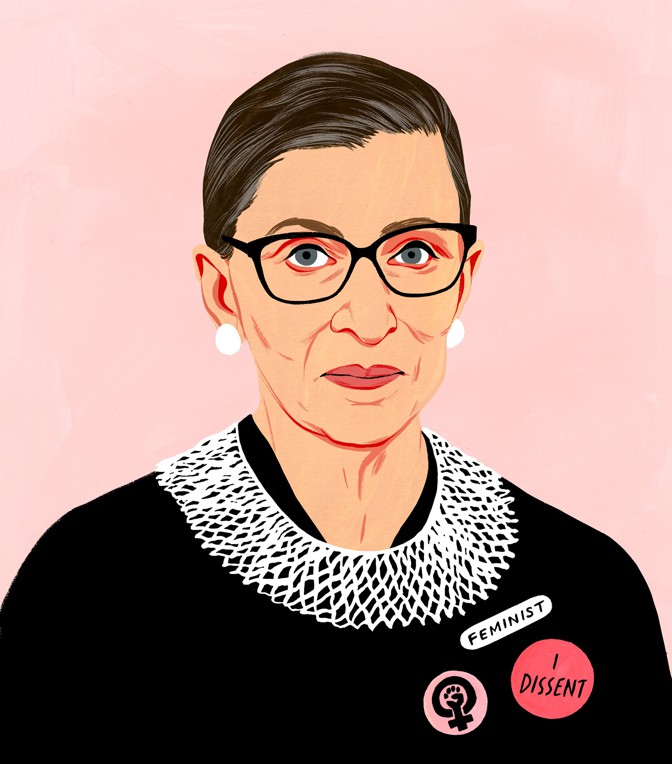 Supreme Court Justice Ruth Bader Ginsburg never asked for fame—she was just trying to make the world a little better and a little freer. But along the way, the feminist pioneer's searing dissents and steely strength have inspired millions. A lifelong pioneer for gender equality, Ruth Bader Ginsburg was the second woman to serve on the nation's highest court. Here are five lessons and activities to inspire others. 
PBS NewsHour Extra & Peardeck have teamed up to create  free, ready-to-teach lessons on the events affecting our world today. Each week, you'll find a Deck made for middle school and high school learners on a current-events topic, complete with thought-provoking interactive questions and embedded videos from reliable sources. Check out these lessons on Justice Ruth Bader Ginsburg's legacy on the Supreme Court
The New York Times Lesson of the Day from September 20th is on Ruth Bader Ginsburg. In this lesson, you will learn about the life, legal philosophy and legacy of Justice Ginsburg and ways she not only changed the law, but also transformed the roles of men and women in society. Discussion questions and activities are included. 
Take a virtual tour of Notorious RBG: The Life and Times of Ruth Bader Ginsburg at the Illinois Holocaust Museum and Education Center. Based on the New York Times bestselling book and Tumblr page of the same name, Notorious RBG: The Life and Times of Ruth Bader Ginsburg is the first-ever museum exhibition focused solely on this judicial icon, whose image graces mugs, t-shirts, posters, and bobbleheads. The exhibit is a vibrant exploration of Justice Ginsburg's life and her numerous, often simultaneous roles as a student, wife, mother, lawyer, judge, women's rights pioneer, and Internet phenomenon.  You can register for a Public "drop-in" virtual tours of Notorious RBG throughout October and November on their website. 
Looking for books to celebrate the life and legacy of Ruth Bader Ginsburg, check out this book list from The New York Public Library. There are books for all ages on this list. 
If you are into games and public speaking, check out the game I Dissent. I have adapted the game into a station rotation activity in my middle school classroom. Check out the station directions below:
Have more resources or lesson ideas, add to the conversation by posting a comment below.